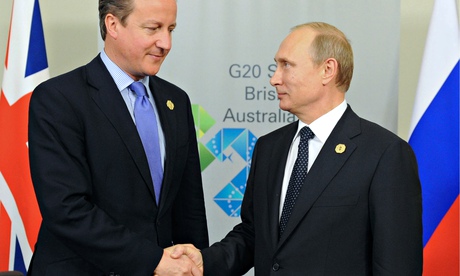 David Cameron has held a 50-minute meeting with Vladimir Putin on the margins of the G20 summit, telling him that the west's relations with Russia are at a crossroads and demanding that Moscow allow independent observers along the country's border with Ukraine.
In a sign of the tension between the Russian president and many of his fellow G20 leaders, it emerged that Putin was to leave the Brisbane summit early, skipping the final lunch on Sunday and holding a press conference before his counterparts.
In what Number 10 sources described as robust exchanges, Putin told the British prime minister he was still interested in principle in Ukraine remaining a single political entity.
Putin had stoked tensions by deploying four warships to the Coral Sea off Australia's eastern coast, in a move described by the summit's host, Tony Abbott, as part of a "regrettable pattern" of Russian military assertiveness designed to recreate the "lost glories" of the Soviet Union.
Cameron said Putin's exercise of "international machismo" should not be allowed to distract from events in Ukraine, where violence has continued despite the Minsk ceasefire.
Following their 50-minute meeting, a Downing Street source said: "The prime minister was clear at the start of the Ukraine discussions that we face a fork in the road, in terms of where we go next.
"We can either see implementation of the Minsk agreement and what follows from that in terms of an improvement of relations. Or we can see things go in a very different way in terms of relations between Russia and the UK, Europe and the US."
Putin's spokesman, Dmitri Peskov, admitted there had been a breakdown in relation between Russia and the west, but said Cameron and Putin discussed measures that could lead to "an end to confrontational attitudes".
In perhaps the bluntest exchange between Putin and a western leader,the Candian prime minister, Steve Harper, was reported to have told the Russian president: "Well I guess I will shake your hand, but I have only one thing to say to you: you need to get out of Ukraine."
Putin held a series of bruising encounters on Friday with European leaders including the German chancellor, Angela Merkel, and the French preisdent, François Hollande.
It now seems likely that EU foreign ministers will increase the number of Russian citizens subject to asset freezes and travel bans at a meeting on Monday. The new names are likely to be individuals elected in the illegal elections staged in Donetsk last month.
Further economic sanctions are not expected at this stage, partly to give time to assess whether Putin is willing to rein in the activities separatists suppored by Russia in eastern Ukraine. Current sanctions apply to the banking and energy sectors.
The destabilisation has led to a run on the Russian ruble, but Putin remains defiant against the sanctions, which he perceives as illegal and pointless. He also admitted for the first time that he was prepared for his country to face a "catastrophic" slump in oil prices.
Britian is supporting efforts to place monitors or drones from the Organisation for Security and Cooperation in Europe (OSCE) on the border between Russian and Ukraine to test claims by Putin, which he repeated on Friday, that Russia is providing neither equipment or soldiers to the rebels.
Cameron said immediately before the bilateral meeting: "If the current path continues and if the destabilisation continues to get worse the rest of the world – Europe, America, Britain – will have no choice but to take further action in terms of sanctions."
He said that commitments made in the Minsk agreement had not been honoured, but that the right thing to do was to continue to engage.
EU leaders are due to meet Barack Obama on Sunday to decide on any further action. Merkel told reporters the sitiation was not satisfactory, and Obama said Russia's aggression was a threat to the world.
At least 4,000 people have been killed in the Ukraine conflict, and the atmosphere has worsened in recents weeks with Nato claiming that Russian troops were operating inside its neighbour's sovereign territory.
http://www.theguardian.com/world/2014/nov/15/david-cameron-vladimir-putin-relations-crossroads-ukraine
Рубрика: Новости